Learn About Bathroom Tile
At home, you spend a good portion of your time in your bathroom. So, why not have your bathroom reflect your personal style as well as current and popular trends? Sterling Carpet One Floor & Home in Grand Forks is here to help you bring some style to your bathroom with tile. Our flooring professionals can help you make your dream space a reality with even the smallest of updates. We carry the latest trends in tile and can help you choose the best tile for your home.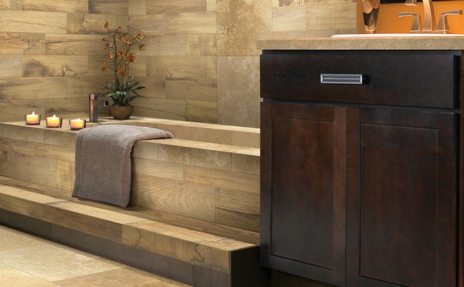 What Is the Best Bathroom Flooring Option?
Tile is very common for homeowners to choose for bathrooms because of its durability and easy maintenance qualities. Tile is naturally durable and is resistant to moisture, heat, and overall wear. Tile is also versatile in terms of style and comes in a variety of shapes, sizes, patterns, colors and more. They can also be resistant to slipping, which is very important in bathrooms. Porcelain and ceramic tiles are the most popular options for residential bathrooms. Dense tiles like porcelain are less susceptible to moisture, so they are less likely to crack. The durability of tile also plays a role, because they are resistant wear and fade from frequent use.
Subfloors can move and tile can chip and break, but with Schluter Membranes they provide an uncoupling technology that will help prevent tile and grout from cracking. These membranes will uphold the integrity of the tile and stone. Tile and stone can be cold to the touch, and adding floor heat can add too much height to a floor, but when we add Schluter's Floor Warming system you are not adding inches to the floor thickness and you also get uncoupling technology with an electric warming cable.
Bathroom Tile Backsplashes
Wall tile and backsplash tile are durable and easy to clean, and unlike wallpaper and paint, they won't fade after years of use. When it comes to humidity, tile will not peel like wallpaper tends to. You can choose from different patterns or create a picture on your wall, with backsplash tile the possibilities are nearly limitless. Backsplash tiles can come pre-assembled with a mesh backing, or can come in individual tile, it depends on how much work you want to put into your bathroom update.
Custom Tiled Showers
Schluter is the only product we will use to waterproof a shower! They also have wonderful uncoupling membranes and profile edging. Exposed tile edges are unglazed and are vulnerable to chipping. Schluter has profile edges to provide a protection to the tile edge as well as provide a straight clean transition. When you are looking for a beautiful tile shower you also want the peace of mind that it is waterproof! We use porcelain tiles to create your custom tiled shower, and work with you to choose the tile styles you love and that complement your current décor.